---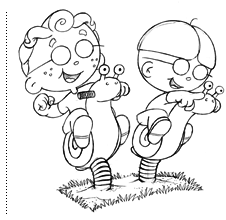 Brothers Tim and David Dang have always shared an interest in illustration and comic art. In the mid-1990s they decided to pursue their interests by developing their own comic book stories.

After deliberating several ideas, Tim and David settled on the concept of Brilliant Boy. They believe that stories involving children and the childhood universe hold countless possibilities—children are curious and creative, and possess a vibrant imagination that is often absent in the adult world. In Brilliant Boy the brothers saw the opportunity to challenge their own creativity and explore many very different storylines.

Tim and David formed Circus Comics in 1996, and in January of 1997, they published the first issue of Brilliant Boy.

The brothers continue to develop new Brilliant Boy stories, with Tim focusing on illustrating the Brilliant Boy graphic novel, and David working on the Brilliant Boy comic strip.

Tim and David live in Toronto.